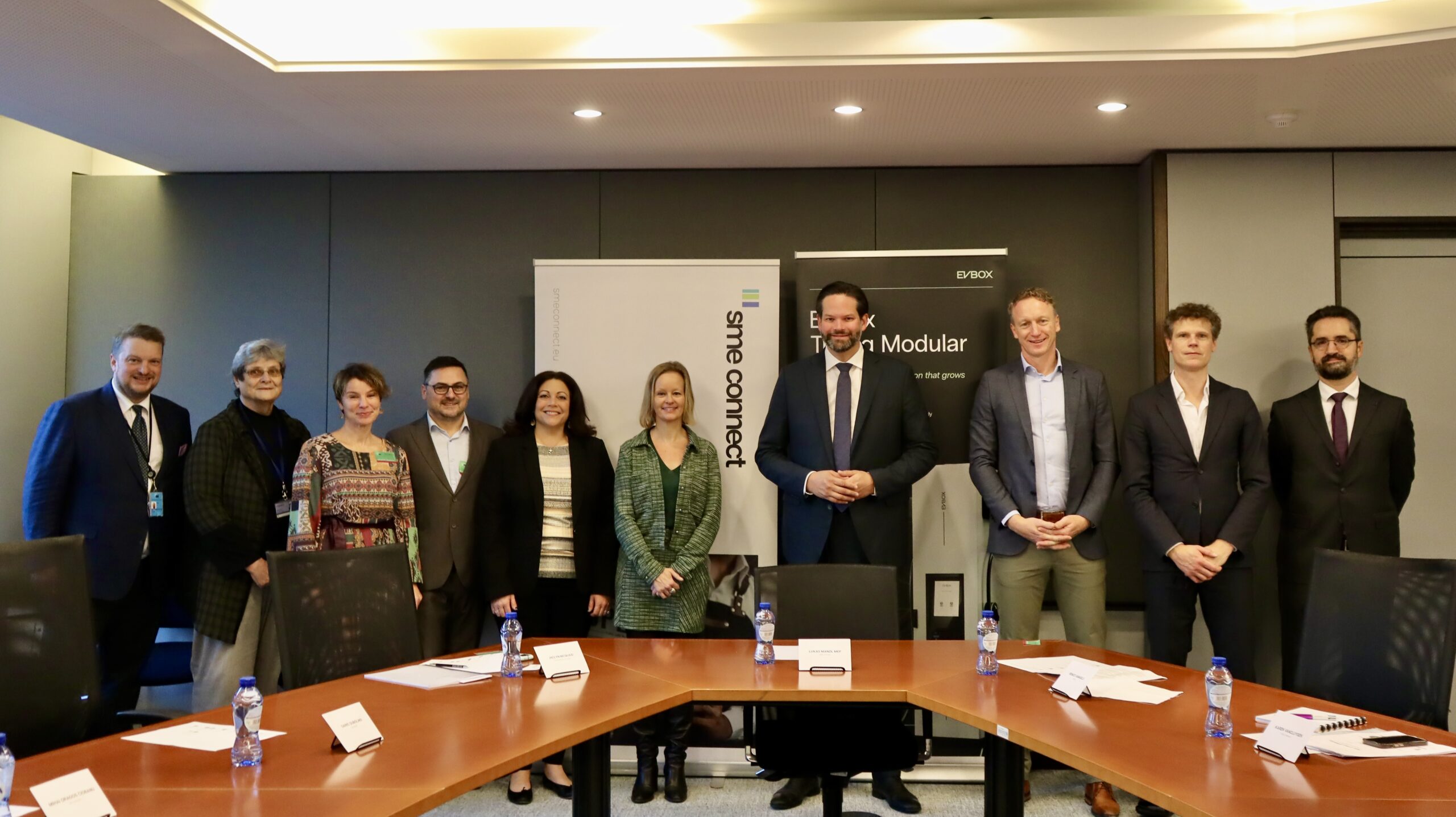 On Tuesday, November 7th, SME Connect led a roundtable titled 'Driving Europe's Green Mobility Transition.' The event was hosted by LUKAS MANDL, Member of the European Parliament and Board Member of SME Connect. The panel featured distinguished experts, including KAREN VANCLUYSEN, Secretary General at POLIS Network; REMCO SAMUELS, CEO at EVBox; JACLYN MCQUAID, President and Managing Director at General Motors Europe; MIHAI DRAGOS CIOBANU, CEO at EV Connect; FOLKER FRANZ, Head of Policy & Public Affairs at Volta Trucks; and DARIO DUBOLINO, Policy Officer in Unit MOVE.B4, Sustainable & Intelligent Transport at DG MOVE, European Commission. The discussion was moderated by Dr. HORST HEITZ, Chair of the Steering Committee of SME Connect.
LUKAS MANDL MEP opened the discussion with a welcoming address, underscoring the importance of ensuring equal participation for all EU member states in the transition to green mobility. Despite Europe's population representing only 5% of the global total, it contributes to 20% of the world's GDP. "When addressing climate change and the shift to green solutions, it's imperative that we engage the other 95%, but our approach must steer clear of prohibition, excessive regulation, or bureaucratic red tape," he emphasized.
Expanding on the theme of innovation, KAREN VANCLUYSEN highlighted the pivotal role of cities in advancing sustainability and achieving climate objectives. She stressed the need to strike a delicate balance between urban needs and the expectations of individual citizens, a challenge that decision-makers and policymakers face. Furthermore, Karen pointed out the evolving dynamics in the public and private sectors, where traditional public prerogatives are increasingly absorbed by the private sector. This evolution raises questions about the future role of local authorities in the transport systems of tomorrow.
In response to these challenges, Karen called for innovative governance strategies to ensure that groundbreaking innovations live up to their potential. She particularly emphasized the demand for inventive governance systems, regulatory sandboxing, and the development of fresh models for public-private partnerships and subsidies.
REMCO SAMUELS suggested better collaboration across the transport, energy, and digital sectors to create a positive impact and garner support for electric mobility. It is crucial to address the regulatory divergence within the EU Single Market to ensure a fair transition and promote innovation. "Fifty percent of my company's brainpower is spent on things that are not helping to accelerate," he concluded.
JACLYN MCQUAID mentioned that innovation largely emanates from SMEs. Large companies like General Motors often rely on smaller partners when seeking to enhance their products. She concured with Remco on the fact that improvement is frequently hindered by regulations and the time required to achieve complete clarity on the matter. 
MIHAI DRAGOS CIOBANU highlighted the close collaboration required between SMEs like his and local municipalities and regions. In order to maintain competitiveness, they need simplified access to funding at both the national and EU levels. These funding opportunities should be equitable and on par with the subsidies provided to municipalities and the funds available for large corporations.
FOLKER FRANZ initiated his contribution with a pivotal question: "Why do we frequently encounter challenges in the electromotive sector?" He emphasized that there's a strong demand for green electromotive solutions, but the primary issue lies in the supply of these products. Many companies struggle to meet the demand required of them. When it comes to demand, electrification is poised to encompass various industry niches, and the key question revolves around whether this transformation originates from Europe, Asia, or the US.
As a representative of the European Commission, DARIO DUBOLINO had the opportunity to offer a summary of the issues discussed during the roundtable. He emphasized a unanimous consensus on the importance of scaling up production in response to the growing demand. Dario stressed the significance of enhancing industrial capabilities, believing that this transformation could have a profound impact. Consequently, there is a need to translate the diverse ideas and innovations offered by SMEs into widespread solutions for all.