Working Group
Health & Nutrition
In the face of challenges providing good nutrition and ensuring the health of all citizens such as a growing and aging world population, rising obesity rates and health care costs, has become imperative. We need to build on the global impetus and make sure Europe is on a mission for health and nutrition. Delivering health and good nutrition to all Europeans goes beyond awareness and science – it also requires creating an environment that puts nutrition within reach. Sustaining a healthy diet is not easy. In our modern lifestyles, ensuring a sufficient intake in macro- and micronutrients is more difficult than ever: this is why a more targeted approach to nutrition is essential. Durable and creative solutions and alternatives such as "nutrition on the go" and functional foods are needed to make it easier for Europeans to adhere to nutritious diets. Consumers require trust, transparency and quality from the food industry. World leading SMEs, traditional family enterprises and innovative suppliers are working tirelessly to fulfill customer demands and help addressing the global food challenges. European companies are among leaders in this sector but they need the support of the EU policy makers to help creating the right environment. The objective of this Working Group is to outline challenges and solutions and actively contribute to a healthy future for EU citizens. Raising awareness of the role of nutrition to tackle megatrends, communicating about the benefits of healthy diets and promoting nutrition education and the access to healthy choices would be among the key priorities of this initiative.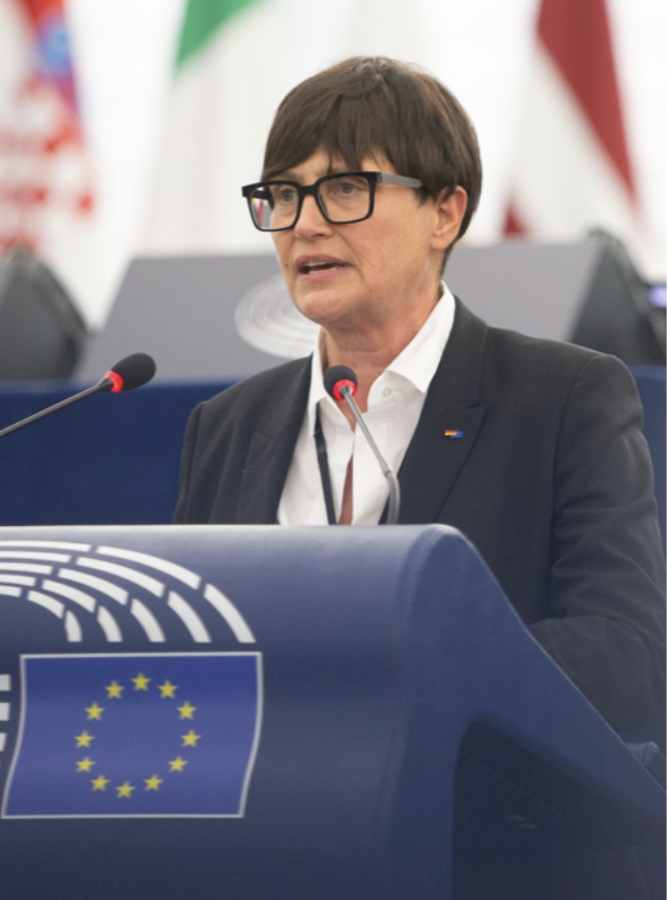 Leadership
Chair
Christine Schneider
Member of the European Parliament
Committee on the Environment, Public Health and Food Safety
Committee on Agriculture and Rural Development
Special Advisor
for Food Supplements Manufacturing
Giorgio Ferraris
CEO Fine Foods & Pharmaceuticals N.T.M. S.p.A.
Special Scientific Advisor
for Agriculture, Food & Environment
Prof. Roberto Papa
Professor in Agricultural Genetics of the Department for Agricultural, Food & Environmental Sciences of the Polytechnic University of Marche
Director of the Cereal Research Centre-Agricultural Research Council (CREA-CER) in Foggia, Italy (2010-2014)
Leading the Plant Genetics & Plant Breeding Research groups of UNIVPM
Coordinator of the INCREASE project, "Intelligent Collections of Food Legumes Genetic Resources for European Agrofood Systems"
Coordinator of the ERA-CAPS Project "BEAN_ADAPT-Evolution in a changing environment"
Commitment
Ensuring Health
of the EU Citizens
We bring together SME actors of the food sector to raise awareness of the role of nutrition in tackling health challenges, as well as the need for more significant investment in innovation in the food sector, to promote sustainable food products and food production, whilst also ensuring our food safety systems work for SMEs.
Fighting civilization diseases with healthy nutrition
Cancer is one of the leading causes of death worldwide. Growing evidence points to certain dietary habits, increasing or decreasing cancer risk. In Europes beating Cancer Plan, the right Food & Nutrition can support this Plan.
Healthy aging:
from birth to old age
Healthy longevity is a tangible possibility for many individuals and populations, with nutritional and other lifestyle factors playing a pivotal role in modulating the likelihood of healthy ageing. A major aim of our Working Group is to raise awareness regarding the relationships between nutrition and the ageing process from birth to old age.
Sport & nutrition
for everybody
Nutrition is strongly linked to health and physical activity, especially due to the increase in energy and nutrient demands. The nutritional approach for training and competition is one of the most important concerns of sports nutrition science.
Sustainable nutrition
must feed all & be healthy
Sustainability has been identified as a key priority across all sectors under the European Green Deal – we are committed to supporting efforts to promote efficient and sustainable food production methods, whilst boosting innovation and the development of smart technologies.
Research & innovation
The European food sector, a sector dominated by SMEs (over 90%), is a world leader when it comes to innovation. We believe it is critical to encourage innovation in nutritional science by making sure that nutrition companies retain their ability to take R&D initiatives to optimize how food is produced, packaged and consumed to the benefits of EU consumers
Food safety to consumers: high-quality production standards & post-market surveillance system
Building trust among consumers by applying high-quality production standards is vital for our sector's growth. A harmonization of those standards would also provide a level playing field at EU level by protecting those companies that provide good quality products, and sanction the ones that don't take consumer protection seriously enough.
Catch up with the conversation
Initiatives
Healthy Lifestyle
at Work & Home 🏃‍♂️🏃‍♀️
Ensuring a healthier and more productibe economic environment in Europe: Cross-sectorial call to support and lend patronage to the initiative Healthy Lifestyle at Work & Home to help SMEs support and encourage their employees adopt healthier behaviours.
Due to an increased availability of information, health 🧘‍♀️ awareness continues to grow, together with the burden of an ageing population and increased risk for lifestyle diseases. Non communicable diseases, however, are becoming more widespread: today, there are more people in the world who are overweight and obese than underweight. The combination of a lack of physical activity 🧑‍💻 and a poor diet 🍿is among leading causes of diseases like cancer, diabetes, strokes, malnutrition or mental diseases. These conditions negatively impact the work-life balance and cause a higher risk of contracting Covid-19.
The workplace is an important part of a healthy life, as people in full-time employment usually spend a 1/3 ⏰ of their day at work.
With 2/3 of European 🇪🇺🧑‍💼 employment working for SMEs, it is them who can create the right conditions for the employees to become more proactive about their health.
In context of the Europe's Beating Cancer Plan🎗 and the fight against Covid-19, the network of SME Connect is kick-starting its initiative "Healthy Lifestyle at Work & Home" to promote the efforts 🏋️ of the EU actors and those of the private sector in this domain. As information 📢 is crucial for prevention, activities such as Workshops, Events, and Projects will connect all committed stakeholders to guide SMEs towards a positive impact. We invite experts from the politics, administration, science, civil society and business to join us in the effort. Together change is possible.
Supporters
Let's work together
Hello,


How can we help you?