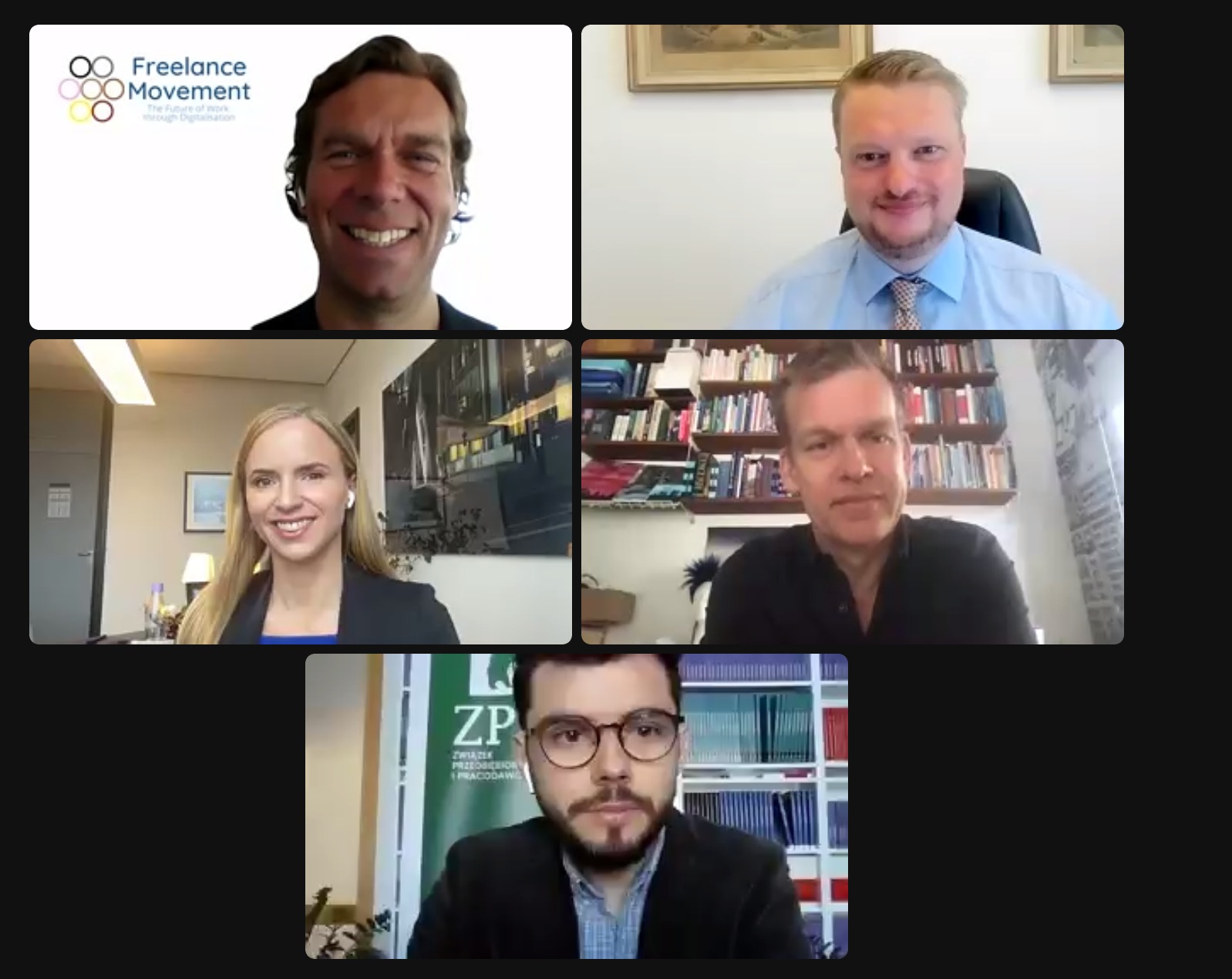 On Tuesday, May 17th, in cooperation with the Union of Entrepreneurs and Employers (ZPP) and Freelance Movement, SME Connect organized the webinar "Future of Work" to discuss the role of digitalisation in the future of work and the approach which should be taken on the proposed Directive on improving working conditions in platform work. 
The webinar was moderated by SME Connect's own Dr Horst Heitz, Chair of the Steering Committee, and the panel was comprised of Sara Skyttedal MEP, EMPL Committee; Glen Hodgson, Founder and Secretary General, Freelance Movement; David Mothander, Head of Public Policy, Bolt; and Adam Pakulski, Legal Analyst, Department of Law and Legislation, ZPP. 
Sara Skyttedal MEP opened the floor expressing doubts on the European Commission's proposal for a Directive on Improving Work Conditions in Platform Work. Firstly, it may just promote a "one-size-fits-all" approach that disregards the diversity of challenges and opportunities across labour markets and Member States. Secondly, it may just be a threat to European competitiveness.
Starting the debate from the freelancers' perspective, Glen Hodgson stressed how, with over 50% of respondents of a Nordics-based survey disliking or even hating their jobs, it is not surprising that freelancing and side gigs become alternative ways to make money while following one's passions.
Representing the platforms, David Mothander remarked that unfortunately the EC's proposal only focuses on employee status rather than actually working conditions. Most people prefer being self-employed as being an employee comes with non-compete clauses. 
Lastly, Adam Pakulski reported the result of a ZPP study: 95% of the respondents, all platform workers, were satisfied with their current job. Additionally, over 80% would consider continuing working with platforms in the long term. This of course means that there's a substantial misconception which regards platform work as a "non-satisfactory temporary job."
Ultimately, at a European level, there must be the right legislative framework for digitalization – in addition to the Directive on Platform Work, DSA, DMA, EU Data Act, etc. – to "not miss out on opportunities for growth, jobs and entrepreneurship," concluded Glen Hodgson.