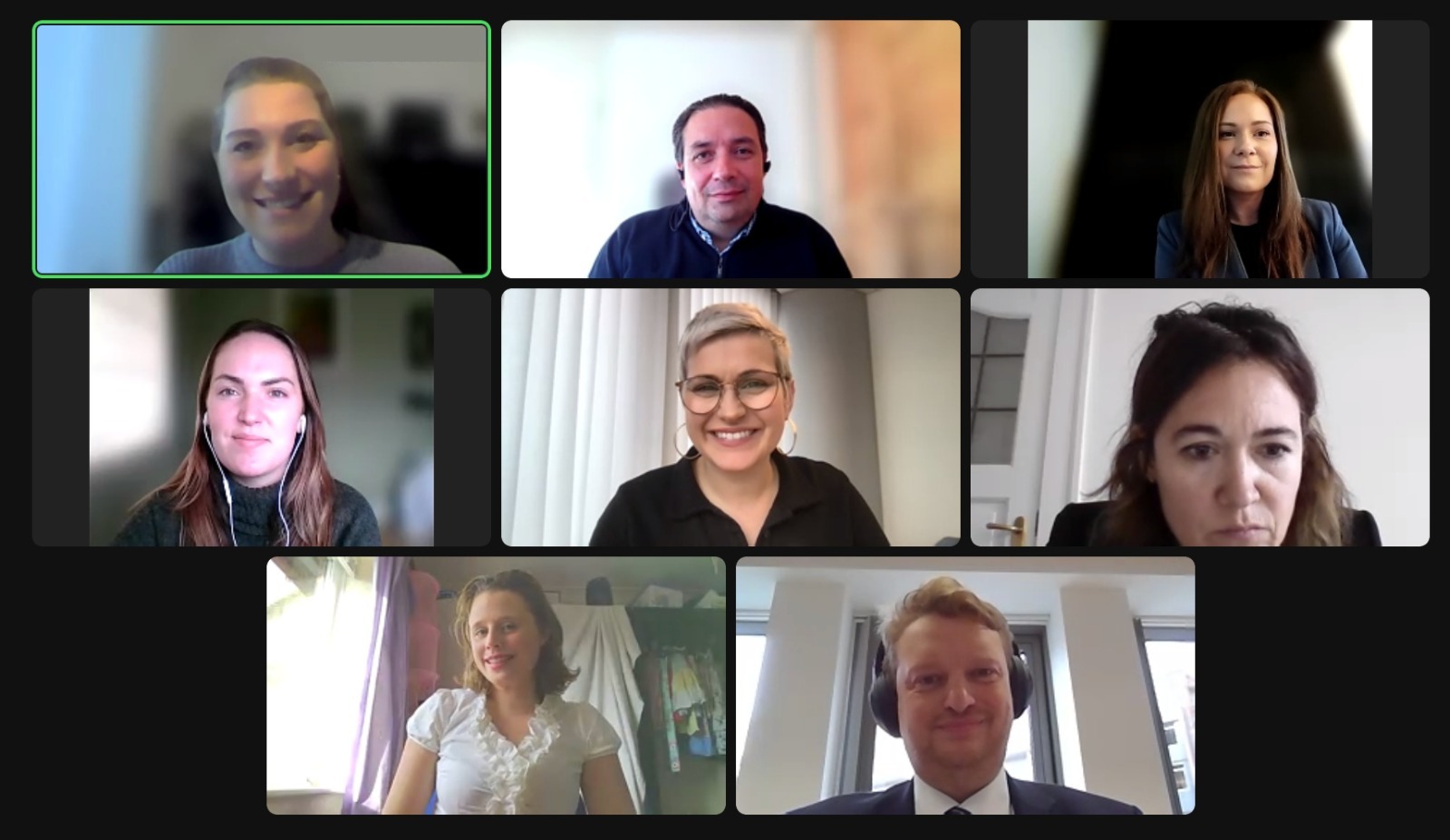 On Wednesday, November 30th, in partnership with our Initiative Healthy Lifestyle at Work & Home, SME Connect organized the webinar "Nutrition for Mental Health: The effect of diets on mental stability and wellbeing" to discuss the influence of nutrition to our mental health.
The webinar was moderated by SME Connect Chair of the Steering Committee, Dr. Horst HEITZ, and the panel was comprised of Maria WALSH MEP, EMPL & CULT Committees, Vice Chair MEP Alliance for Mental Health; Ellen JENNINGS, Nutritional Specialist, Communication Officer at Bodywhys, Member of GAMIAN-Europe; Vinciane QUOIDBACH, Public Health & Policy, Research Project Manager at European Brain Council, Dr. Kadri HALJAS, Founder and CEO of Triumf Health; Dr. Alejandro ARIAS VASQUEZ, Scientific Coordinator at Eat2beNICE; and Alice BENSKIN, Head of Partnerships at Nutritank.
Horst HEITZ opened the floor addressing the global burden of mental illnesses, often in terms of financial costs and disabilities that exceeds all types of cancers combined. Therefore, it's clear how hugely essential mental health is for our society.
Maria WALSH highlighted that mental health has been on her radar for a long time. She stated that we need to address mental health in terms of funding and the infrastructure to support people in our community. The European Parliament voted for a file called Mental Health in the Digital World of Work, which Walsh was a rapporteur for, and she believes it's the beginning of a great new journey for mental health in the EU. Her target is to develop a comprehensive and proactive EU mental health strategy. "Statistics are showing that our second leading cause of death for young people right now in the EU is death by suicide and that is what must be prevented" she provoked the thought.
Followed by this, Vinciane QUOIDBACH said "In Europe, treating brain conditions yearly costs €800 billion, but it's important to understand that brain health refers not only to neurology and psychiatry patients but also mental wellbeing to all citizens". She stated that poor diet is a major, but one of the few modifiable risk factors, for brain disorders. Based on the Brain Health and Nutrition survey carried out in 2018, 9 out of 10 citizens would change their diet if they knew it would lower the risks of cognitive decline (87%) and heart disease (88%), which brings us to unfortunate reality: there is lack of evidence and poor knowledge by professionals. Diet certainly has an effect on our mental health and she believes healthy food for all is a responsibility of policy and requires public funding.
Our third expert and speaker, Dr. Kadri HALJAS, has a medical background, but has dived into the world of startups and is leading Triumf Health to deliver psychological support through a mobile game environment. She talked about mindful eating and how important it is to create a solid understanding and foundation regarding food and nutrition from an early age. Since nutrition is an important component of good and strong mental health, this is exactly one of the building blocks of the game, too. Instead of pointing out to children what to consume and what to not consume, the game rather familiarizes users with concepts of mindful eating and guides them towards a healthy relationship with food in general. It's crucial to introduce our children with this topic, so they have the ability to transform knowledge into balanced and healthy behaviour. "I wish every day was a mental health day!" she expressed.
Ellen JENNINGS, being actively involved in a complex area of eating disorders and very serious mental health conditions, shared her concerns regarding the topic. Unfortunately eating disorders are often underrecognized, however they have one of the highest mortality rates of all mental health conditions. There's no doubt that mindful eating has an effect on our wellbeing and equally, how we nourish ourselves impacts our mental health. Distorted eating behaviours as well as other risks are frequently a way to cope with things internal to ourselves in the environment around us. "Diet culture, weight stigma, food insecurity, and nutrition misinformation could all play a role in a person's risk of developing an eating disorder," she made it clear that a person's relationship with food is a key aspect of mental health.
Continuing the debate, Dr. Alejandro ARIAS VASQUEZ as a biologist, spoke from the scientific point of view about the effect of nutrition for mental health. He pointed out that scientific research is telling us that the effect of nutrition on mental health depends on the type of food we consume, as well as the frequency of doing so. He spoke about an ongoing investigation of the biological relationship that exists between mental health and somatic cells. "There's a big and significant overlap in biology between how our brain works and how the rest of the body works," Vasquez said, "That is connected to how the metabolic system works – obesity, diabetes, metabolic syndrome: they all relate genetically and environmentally with depression, bipolar disorder and ADHD".
Lastly, Alice BENSKIN gave concrete advises on how to make choices regarding eating nutritiously and how poor diet quality can affect mental health. She encouraged to include foods like oily fish, nuts, fibres, vegetables and fruits in the everyday diet and pointed out that people with higher levels of vitamin D, B6, B12, zinc and omega 3-s in their body are less likely to develop mental illnesses such as depression, anxiety or schizophrenia. She said that addressing diet and lifestyle factors, such as exercise, smoking, alcohol consumption and stress may be beneficial for supporting individuals as part of an integrated, multi-disciplinary approach to prevent mental illness. "I wish that already every young adult knew that it's okay to not be okay", Benskin expressed.
"Mental health is not an isolated concept, therefore it can't be treated as one. It affects and is affected by a myriad of external factors including all areas of day-to-day life. We cannot have strong businesses and communities if we do not have citizens who have support for their mental health. That comes through nutrition and healthy balance that we all seek for." concluded Maria Walsh.