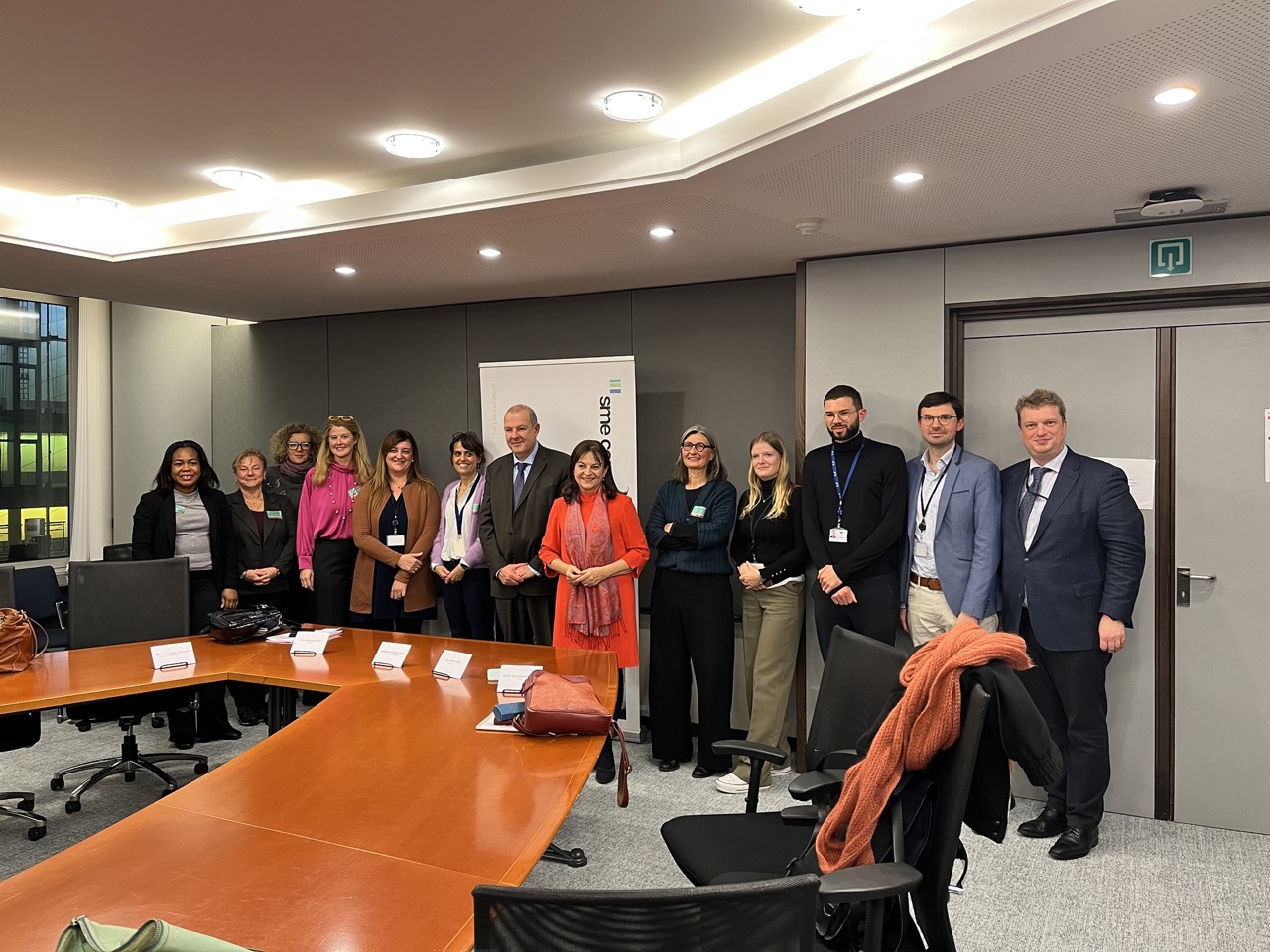 On Monday, November 13th, SME Connect organized a roundtable discussion on "Sustainable Food Systems in Developing Countries: The Role of SMEs in addressing food security, global hunger and malnutrition" in the European Parliament in Brussels. The event was hosted by MARLENE MORTLER MEP, Vice-Chair Delegation for Relations with South Africa; EPP Rapporteur for the AGRI Committee Opinion on a New EU-Africa Strategy; EPP Rapporteur for the DEVE Committee Opinion on the Farm to Fork Strategy Committee on Agriculture and Rural Development. The panel consisted of experts including DR. LEONARD MIZZI, Head of Unit Sustainable Agri-Food Systems and Fisheries ( INTPA.F.3.), DG International Partnerships, European Commission; ANA GRANADOS CHAPATTE, Director at European Forum of Farm Animal Breeders (EFFAB); SOFIE VAN WAEYENBERGE, Coordinator Desk Agriculture / Food Security at Enabel and ANGELA FRIGO, European Food Banks Federation (FEBA). The discussion was moderated by Dr Horst HEITZ, Chair of the Steering Committee of SME Connect.
MARLENE MORTLER MEP commented on the resilience of European agriculture and food security as a rapporteur on food security. Our farmers, our entrepreneurs, whether organic or conventional, deserve great respect and appreciation. She pointed out that the COVID crisis and the massive impact of a brutal war in Ukraine have made many people poorer and hampered the activities of small and medium sized enterprises worldwide. Rising food and energy prices are making life and survival difficult for SMEs in Europe and around the world. The number of starving and malnourished people continues to rise. The availability and affordability of nutritious and safe food is massively impaired. The proportion of the population who cannot afford a healthy diet is 30% globally. However, crisis should not be the trigger for an active action in the first place. Instead, we need to be better prepared for crisis. European food production must urgently become a strategic cornerstone for Europe. European and global supply should be made robust and crisis proof.
Sustainable food security is a major challenge, but in principle it is entirely possible. We regard to climate and the environment. Agriculture and nutrition are part of the problem, but also part of the solution. The Green Deal works best with agriculture, whether food production or carbon reduction. The goal must be reduction through innovation and with motivation.
Sustainable agriculture and food production will not be possible without new technologies. Logistics, transport and storage are just as essential for a smoothly functioning supply chain. Food waste and food speculation need to be focused on even more. The valuable work of our farmers and entrepreneur must not be geopolitized by blanket bands and one sided campaigns.
Keynote speech was given by DR. LEONARD MIZZI, who pointed out that as it is coming to the end of the term for Parliament and the Commission in 2024, we can be proud about the work done around the EU Green Deal and Farm to Fork strategy. The European Union has shown leadership, but unfortunately we are often still being badged from a geopolitical point of view of showing leadership. This is a clear signal that if we want to show sustainability also of SMEs, we have to also be accompanying in the SME landscape. Clearly, even across sub-Saharan Africa, small and medium sized enterprises are the engine of economic growth. And we know that economic growth in Africa is having a hard time. Africa should normally have growth rates of 8%, with debt, the financial shocks its crisis, post COVID period with exchange rate alignments and misalignments, the situation is not looking good. And who is bearing the brand? It is usually the small players, it is usually the small enterprises.
He stated that if we put all minds together, coordinate better at all levels and in all forms, we can showcase SMEs in all remits, not only on cocoa, coffee, cotton or tea, but in all markets, including local and regional ones. One key aim that we have is the African Continental Free Trade Area. If SMEs in Africa want to unleash the full potential of trade, it has to unleash the full potential of the Continental Free Trade Area.
ANA GRANADOS CHAPATTE shed some light on European Forum of Farm Animal Breeders and their work. It is about terrestrial livestock, but also agriculture and breeding. Livestock is essential part of better life, nutrition and health – in particular in developing countries. We work on understanding and addressing the specific needs around the world. Unlike past approaches, which involved sending European breeds, our new strategy involves collaborating with local communities to improve their breeds, considering resource scarcity and sustainability. It is not about replicating European systems but providing access to technology and knowledge. European SMEs collaborate with academia and universities, emphasizing a more balanced and sustainable approach. Addressing animal diseases is a priority, requiring tailored solutions adapted to the unique challenges of developing countries. The focus is on a collaborative, integrated approach involving businesses of all sizes and academia. Instead of imposing solutions, we aim for a mutual understanding of sociocultural and economic factors, building community-based breeding solutions.
SOFIE VAN WAEYENBERGE introduced Enabel whose extensive portfolio includes projects for the EU, global funds like the Green Climate Fund, and other member states. Operating in 20 countries, mainly in Africa, they focus on fragile nations, especially in West and Central Africa, East Africa, and the Middle East. The goal is to move beyond development isolation and collaborate with over 60 public institutions in Belgium, spanning law, security, food safety, and associations. Van Wayenberge coordinates the sustainable food systems desk, working on integrating three dimensions: building resilience and sustainability in production, creating meaningful jobs in the food system, and ensuring access to healthy and safe food. She stated: "We emphasize collaboration with SMEs, recognizing their crucial role in fostering innovation, providing solutions, and supporting job creation. In this holistic approach to food systems, we work on climate-friendly practices, agroecology, green packaging, and efficient supply chains. We also address the challenge of job creation, especially for the growing youth population, by supporting SMEs and young entrepreneurs." Additionally, SMEs play a pivotal role in providing safe, healthy, and quality food within local markets. The overarching goal is to collaborate with a vibrant community of SMEs committed to the sustainable food system agenda.
ANGELA FRIGO from European Food Banks Federation highlighted that they represent food banks in 30 European countries. However their responsibility is Europe, the food banks go beyond that. Food banks now operate in developing countries in Africa and Asia, organized under three networks. Our shared mission across these organizations is to prevent food waste and alleviate food insecurity, addressing issues of food availability, affordability, and waste. Our daily work involves rescuing perfectly safe and edible but unsellable food, due to reasons like nearing expiration or packaging errors. Instead of becoming food waste, this recovered food is redistributed to charities helping those in need. Our impact extends beyond social benefits to include economic and environmental considerations, benefiting both people and the planet. Highlighting the role of businesses, a recent study by the Polytechnico di Milano in Italy found that small enterprises, particularly in the realm of food donation, are still emerging with significant potential. In Italy alone, small enterprises donated over 150,000 tons of food. This underscores the potential for further exploration and growth in this area. Addressing financial aspects, we advocate for promoting and financially supporting food donation initiatives. This involves recognizing the value of donated food and providing financial assistance, especially for medium and small enterprises, and nonprofit organizations engaged in food recovery and distribution. We bring these concerns to the attention of the Commission and Parliament within the Farm to Fork strategy.
Financing is crucial for scaling up efforts to reduce food waste and redirect it for social purposes. Some member states offer fiscal incentives for food businesses donating to food banks or charities, providing tax deductions. We advocate replicating such good practices across member states. Our focus is on efficient operations, redistributing recovered food within the local vicinity due to logistical constraints. However, there have been exceptional cases, like supporting the food bank in Ukraine during the conflict, where companies, including SMEs, transported food from Western to Eastern countries, though it posed logistical and financial challenges. Similar initiatives are emerging in Africa, learning from the European and American models, aiming for more targeted assistance to vulnerable groups, avoiding the past pitfalls of sending large quantities of food without proper impact assessment.